A modular and customizable offer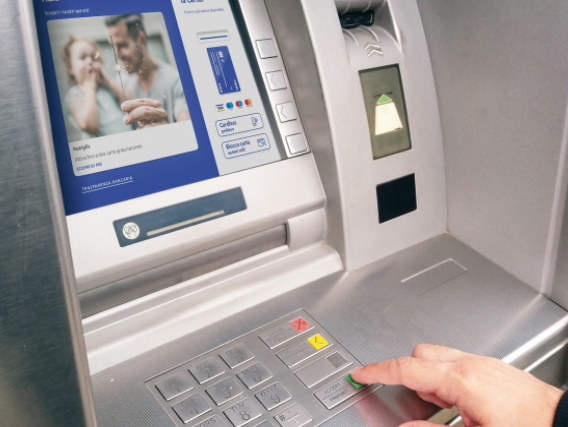 Our comprehensive offer covers the entire value chain of Self-Banking services and has been conceived to improve the Branch model.
Front-end best practice
Advanced and customised user interface design
Cutting-edge architecture
A new infrastructure allowing a flexible and simplified integration with Customers' legacy systems and third parties databases (e.g., PA)
Advanced monitoring
Dedicated help desk with monitoring systems and cash forecasting 
Total Quality Maintenance
Proactive maintenance and dedicated resources for vendors coordination
Best Multivendor Integrator
A multivendor approach for hardware management, as well as technologies and processes certified  for a wide range of devices
Logistics
Services for asset management, installation and handling
Smart Branch Ecosystem
Solutions for the integration of Branch Self-Banking instruments, supporting network transformation
Revolutionary front-end with an innovative and intuitive design improving the Customer user experience through speed of execution and value-added functions and services.
New tablet-likeTouch Experience 

Multiple functionalities

Dynamic profiling based on Customer behavior available on all functions

On-app cardless withdrawal

Advanced Advertising and Content Management System

Value Added Services improving channel profitability

Natively integrated CRM to transform  the channel into an effective instrument for Consumer commercial engagement
New advanced monitoring and maintenance systems guaranteeing the highest efficiency and a wide range of services:
Nexi's Advanced Monitoring employs a proprietary platform based on machine learning, allowing a constant and proactive monitoring of the channel and solves up to 95% of the anomalies remotely

Dedicated support desk, Cash Forecast and predictive maintenance to detect and prevent problems which can otherwise create channel performance downtime impacting the channel performance

New Performance Management Dashboard allowing to full management of the Self-Banking channel, even from mobile.
More than ATMs: Assisted self-service cashpoint, multifunction Totems and Kiosks are also part of our self-service offer
Full range of self-service solutions for information and disposition services management (e.g., PagoPA Payments, Public Health)
Ultra light totems for in-branch/out-branch reception services management

Remote advisory post

Kiosks for cash/ no-cash payments

Assisted self-service cashpoint
Proprietary multichannel management platform making payment transactions easier and faster, also thanks to the full integration with Customers' legacy systems and third parties databases 
Nexi's services models are modular and customizable to fit the needs of our Partners
Supplying of the basic application platform (Terminals manager, front-end with standard functionalities and advanced monitoring).
---
Nexi's Fleet Management: the carefree service
We are specialists in the management of the entire self-service value chain.
We act as a single intermediary for the management of a complex channel requiring significant investment.  
Our offer is conceived to meet every demand arising from the channel's evolution:
SPEED
We accelerate your projects through  our operating platform  
SAVINGS
Annual all-inclusive rental payment for every machine with end-to-end services management, optimizing operating costs
QUALITY
Total Quality Management and advanced monitoring with Premium services
INNOVATION
Our dedicated Digital Factory supports our Clients in their ambitious innovation and transformation paths 
BRANCH TRANSFORMATION
The experience of Nexi's teams to support the evolution of the distribution model